A HIPAA Release Is an Important Part of Your Estate Planning
Dec. 8, 2021
According to an annual survey conducted each year by the website Caring.com, the pandemic raised awareness of the need for estate planning, in other words, to make concrete plans in the event of your incapacitation or death through a will, trust, or other legal instrument.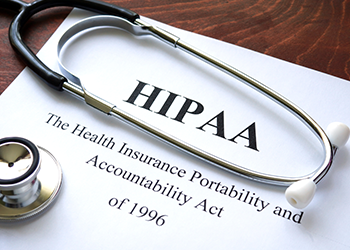 However, results were mixed. Those Americans aged 18 to 34 seemed to take the message to heart more than older Americans. Among this younger age group, the pandemic resulted in 45 percent of participants engaging in estate planning. Those aged 35 to 54 came in at 23 percent, and those 55-plus at 16 percent. Even so, the study concluded that nearly two out of every three adults in the U.S. still have no will or trust.
The pandemic drove home the message that the unexpected can happen at any time. Thus, you need to have plans in place to care not only for your loved ones, but also for yourself should you face an unexpected health or other crisis that leaves you incapacitated.
A will or a trust can transfer assets to your loved ones, but if you're in a hospital unable to speak for yourself, you need someone to voice your medical decisions for you.
You can execute an advance directive for health care to name a representative to voice your decisions for you, and you can name a trustee in a living trust to manage your daily affairs for you should you become incapacitated. But in both situations, federal law may prevent the sharing of personal health information with your named agent or trustee.
This is because of the Health Insurance Portability and Accountability Act (HIPAA) of 1996, which includes privacy safeguards for your protected health information (PHI).
If you're looking to begin estate planning or have your current plans and documents reviewed, and you're in or around Kennewick, Washington, including nearby in Walla Walla, Richland, or Pasco – or even in Portland, Oregon – contact the Northwest Elder Law Center.
Attorney Robert Taylor-Manning brings nearly three decades of legal experience to the task of helping others create estate plans that can bring peace of mind and security to you and your loved ones.
What Is HIPAA?
The Health Insurance Portability and Accountability Act, known as HIPAA, has three major components: a privacy rule, a security rule, and a breach notification rule.
The privacy rule, as mentioned briefly above, protects your personal health information from being shared with unauthorized persons or entities. The security rule pertains to digitized health records and requires strict standards to prevent hacking or illegally obtaining that information. The breach notification rule requires those who maintain health records to inform anyone if their protected health information (PHI) has been breached.
The privacy rule is the main component to consider when you're drafting estate planning documents. As also mentioned earlier, even with a living will and a health care power of attorney (called jointly an advance directive), the health care representative you name to voice your medical choices for you may be barred from obtaining pertinent medical history information about you because of HIPAA.
The same holds true if you've empowered someone to act in your stead through a trust or power of attorney. If that person needs information about your medical history, he or she could likewise be barred. The trustee or named agent may need access to your medical bills to pay them and could even be barred from that under HIPAA privacy.
Providing HIPAA Authorization
That's why it's important to include a HIPAA authorization with your pertinent estate planning documents. The authorization form allows the person or persons named to have access to your medical records.
Washington medical records laws also mirror HIPAA and state that only the patient may authorize disclosure of medical records to anyone other than health care providers, penal institution officials, or public health authorities. This is another reason you need to include HIPAA authorization with your estate planning documents.
On the other side, that of the health care providers and attending hospital, the HIPAA authorization, or release form, relieves them of any potential legal liability.
How an Estate Planning Attorney Can Help
A will or trust – and a HIPAA authorization – are not really do-it-yourself propositions. Each person and each family is unique, and estate planning documents need to be tailored exactly to the specific needs and goals of the person or persons involved.
You really need to sit with a knowledgeable and experienced estate planning attorney to get the documents you need done right to prevent future challenges or legal problems.
If you're in or around Kennewick, Washington, or nearby, even in Portland, Oregon, rely on Attorney Robert Taylor-Manning at the Northwest Elder Law Center. He is dedicated to providing personalized service in estate planning and will be happy to help you. Contact him today.