Properties That Are Commonly Held in a Trust
May 9, 2023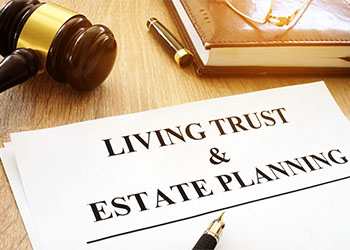 The website Caring.com conducts an annual Wills and Estate Planning Study. The most recent results show that inflation has triggered a renewed awareness in people of the need for estate planning, with one out of every four respondents saying that rising prices have caused them to see a greater need for an estate plan. Even so, 40 percent of respondents also say they won't consider writing a will or creating a trust until their life is in danger.
Estate planning at its most basic level involves preparing for how your loved ones are to be provided for when you're gone, but it also involves planning for any eventuality in life. The recent pandemic should've alerted all of us to the need to have plans – and legal documents – in place should the unforeseen suddenly cross our paths.
The most basic document of estate planning is the last will and testament. A will, though it certainly designates beneficiaries to receive your assets when you're gone, is a somewhat cumbersome instrument since it has to go through probate court proceedings, which can take months. While your will is being administered through the court, your loved ones can be left without the support you designated for them.
An alternative, or supplement, to a will is called a living trust. The word "living" is important because, unlike a will that doesn't take effect until you die, a living trust takes effect immediately. You place your assets into the trust and you become the trustee to manage them while you're alive. The trust document also names a successor trustee to take over when you become incapacitated or pass on. Most importantly, perhaps, a living trust does not have to go through probate proceedings.
For all your estate planning needs in or around Kennewick, Washington, contact Northwest Elder Law Center. Attorney Robert Taylor-Manning will review your financial situation with you and help you create the legal documents, including a living trust, that will provide you and your loved ones with peace of mind going forward in life. His firm also serves clients throughout Olympia, Tumwater, Lacey, Shelton, Centralia, and Chehalis.
What Is a Living Trust?
A living trust is also known as a revocable trust, which means that it can be updated or canceled at any time. It is indeed a living document, in which you place your assets and then manage them yourself while you're alive. While a will names a personal representative to take over your assets when you pass on, a living trust names a successor trustee who will take over not only after you're gone but even while you're alive and become incapacitated.
Which Assets Go into a Trust
Some assets transfer to your beneficiaries outside of a will or trust. For instance, a retirement account that names a beneficiary, or beneficiaries, will pass to the individuals so named without the need to go through probate court. Real estate held in co-tenancy or co-ownership will also transfer outside of any legal proceeding.
What this means is that everything held in your name alone without the right of survivorship should be placed into a living trust. These assets include:
real estate or real property held in your name

valuable collections, whether of art, stamps, coins, or other objects

jewelry, antiques, furs, and valuable furniture

stock in a closely held corporation

stocks, bonds, and securities held in a brokerage

small business interests

money market and bank accounts

patents and copyrights

precious metals
You can't put cash into a living trust, but you can transfer a savings or checking account into the trust and name a beneficiary for it. Also, though you have a living trust, you may also need a will for a couple of reasons. One reason is to be able to name a guardian for any minor children you have. Another is to create what is called a "pour-over" will, which will transfer any assets you forget to place into the trust when you're gone, though it will still have to go through probate to do so.
Transferring Assets Outside of a Will or Trust
As mentioned earlier, assets that are jointly held will pass automatically to the co-owner or co-tenant, such as a primary residence held with your partner or spouse. Life insurance policies and retirement accounts will also transfer to the named beneficiary, or beneficiaries, outside of any legal proceeding. You can also establish payable-upon-death bank accounts that will transfer immediately without any need for a trust or will.
Dedicated Legal Counsel
For all your estate planning needs – whether you're just embarking on your plan or reviewing what you have – reach out to Northwest Elder Law Center.
Attorney Robert Taylor-Manning will work with you personally to make sure all your wishes are fulfilled in your living trust and other legal instruments, so you and your loved ones can enjoy peace of mind moving forward in life. Reach out today if you're in the Richland, Pasco, Kennewick area, or the surrounding tri-state area of southeast Washington.