Wills vs. Trusts: Which One is Right for You?
April 30, 2022
When it comes to estate planning, there are a number of different aspects one has to plan. While estate planning is critical, most people try to put it off as long as possible. In fact, a 2021 Gallup poll found that fewer than 46% of Americans even have a will.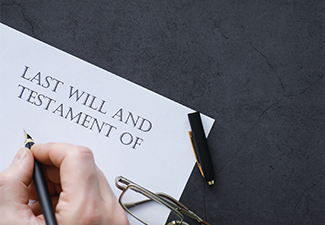 Establishing a will or trust is a primary way to protect your assets and family. At Northwest Elder Law Center, Attorney Robert Taylor-Manning helps clients navigate the estate planning process from start to finish. With over 25 years of experience, Attorney Robert Taylor-Manning has given guidance to clients in Kennewick, Pasco, Richland, Walla Walla, Washington, Portland, Oregon, and the surrounding area.
Why is an Estate Plan Important?
Estate planning is the process of legally documenting how a person's assets and affairs will be managed and distributed upon their death. Estate planning documents can also outline one's wishes for end-of-life care and other decision-making should sudden incapacitation occur. Estate planning can achieve the following:
Dictate who inherits property or assets

Protect minor children and ensure they are cared for

Mitigate disputes and conflicts among beneficiaries over who gets what

Avoid or reduce inheritance, gift, and estate taxes for beneficiaries

Avoid the probate process, saving loved ones time and money

Plan for life uncertainties

Protect investment, interests, property, and assets from lawsuits and unknown creditors

Appoint someone you trust as a personal representative

Provide for surviving loved ones
Wills
A will is a legal document that outlines how you want your assets to be distributed following your death. An executor is identified who will follow the specific instructions within your will after your death to ensure your wishes are honored. In a will, you can also specify a legal guardian for your minor children and indicate how and when they should receive their inheritances.
There are several different types of wills, but the most common are:
Wills are beneficial in that they're relatively simple to make and give you a great deal of flexibility in terms of what assets you leave to whom. The disadvantages of wills include the fact that they are subject to challenges by the parties; they can be taxed and become public record.
Trusts
A trust is an estate planning tool that is created during an individual's lifetime in which a designated person (the trustee) is given responsibility and authority to manage the individual's assets that are owned by the trust. Trusts may be irrevocable or revocable.
When a revocable trust is established, the grantor can designate themself as the trustee and control the assets placed in the trust. With an irrevocable trust, the grantor surrenders certain rights to control the assets in the trust, and the trust cannot be revoked (as the name implies).
Trusts are advantageous for allowing control of assets and avoiding the probate process. The drawbacks of a trust include cost and that they are subject to abuse by the trustee.
Deciding Which One is Right for You
Obviously, there are benefits and drawbacks to both wills and trusts. Ultimately, deciding which one is best for you depends on what your goals are, as will as your situation and preferences. For most people, a basic will is enough to cover their needs. There are some instances where setting up a trust could be advantageous, such as:
You want to avoid probate court.

You value privacy regarding the transfer of your assets to your heirs.

Your estate is large or complicated.

You're a business owner.
Talk to an estate planning attorney about another option known as a "pour-over" will. That will allow you to transfer any leftover assets into the trust so that all the loose ends are tied up, no assets are left out, and everything can be placed in the trust.
Legal Guidance You Can Trust
Regardless of which one you choose, Attorney Robert Taylor-Manning and the Northwest Elder Law Center can help you set up a will or trust for your estate. His firm is dedicated to helping clients and drafting detailed wills and living trusts for an estate in order prior to their passing. Take the first step in creating your will or trust today by contacting his Kennewick, Washington, office today for a consultation.